Importance of Magento in Ecommerce Website Development
Description
Magento for e-commerce is a powerful platform for the online operation of e-commerce stores. It is storming into the market to revolutionize the world of e-commerce.
Introduction
Magento for e-commerce is a platform that is open-source and powered by PHP. The platform supports over 100,000 stores online. More than 2.5 million users have downloaded the platform code for the commercial exchange of goods worth $155 billion. Magento was released in November 2015. The table locking resolution, improvement in page caching, scalability of enterprise grading, inbuilt snippets of richly structured data, easy customization, and more are some of the exclusive features of Magento open-source code. Magento development services offer robust marketing, catalog management, and search engine optimization tools. It provides online clients with a flexible and high-end shopping cart interface, along with control over the content and functionality of the stores.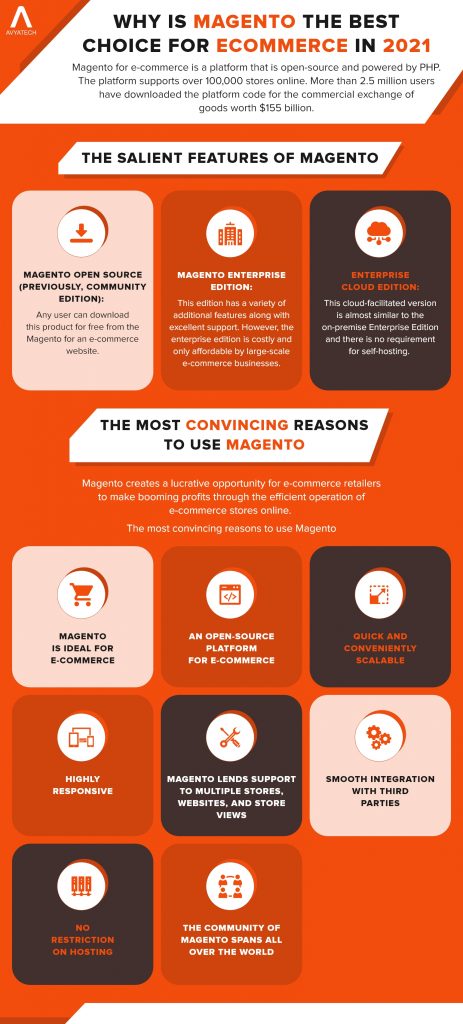 Who can make the best use of Magento?
Magento for eCommerce is a software that offers flawless B2C and B2B services to clients all over the world. The platform is widely popular because of its elaborately customizable interface and exclusive features and functionality. Although Magento is highly suitable for large-scale businesses, small-scale businesses stand to gain from the unique features of the platform. The use of Magento website development services for e-commerce mandates the possession of development knowledge for its use. The primary functions of Magento development software are available for free. But if you want to access more of the platform's exciting features, then you will have to make a payment to the tune of thousands every month.
The salient features of Magento
The sleek and cutting-edge features of Magento are perfect for large-scale businesses. Magento e-commerce development services software comes with several invaluable features, specifically for internet commerce. Besides, there is a large Magento community. A user can reach out to the community at any hour of the day. He can seek resolution of issues with Magento for e-commerce 24×7. However, while Magento is an on-premise arrangement, they do likewise have a cloud-facilitated hosting option.
Magento Open Source (previously, Community Edition): Any user can download this product for free from the Magento for an e-commerce website. In the wake of introducing Magento, the client is answerable for facilitating, support, and web-based business development costs.
Magento Enterprise Edition — This edition has a variety of additional features along with excellent support. However, the enterprise edition is costly and only affordable by large-scale e-commerce businesses.
Enterprise Cloud Edition —This cloud-facilitated version is almost similar to the on-premise Enterprise Edition and there is no requirement for self-hosting. It's imperative to recognize that although this release is cloud-facilitated, and therefore not the same as SaaS (Software-as-a-Service).
What is the most fundamental reason to use Magento?
Magento creates a lucrative opportunity for e-commerce retailers to make booming profits through the efficient operation of e-commerce stores online. With Magento, the e-commerce sector has been blessed with rapid commercial growth, owing to seamless management of inventory, orders, billing, and other operations. The facility of management of multiple stores through only one account makes it even more profitable for e-commerce retailers to use Magento.
The most convincing reasons to use Magento
1. Magento is ideal for e-commerce
Magento website development services offer cutting-edge e-commerce solutions through which the customers, store administrators, and developers can administer e-commerce stores online. Magento 2 is an excellent development over Magento 1. The platform has unique features with a wide range of tools for successful e-commerce trading.
2. It is an open-source platform for e-commerce
Magento is an entirely open-source platform developed with a combination of software tools powered by PHP. The platform of Magento open source is way ahead of its market rivals. That is because Magento website development is impressively adaptable and can be elaborately customized to meet various user requirements.
3. Magento is quick and conveniently scalable
With Magento e-commerce development services, the web pages of your e-commerce store will load at a fantastic speed. The state-of-the-art caching technology of Magento open source enables speedy recovery of user data and quick loading of store pages.
4. It is highly responsive
Magento's open-source makes use of high-end HTML5 technology, which lends an impressive look and feel to the e-commerce store of clients. What's more, with the help of Magento, the e-commerce store will be accessible from any device of any operating system.
5. Magento lends support to multiple stores, websites, and store views
Most of the e-commerce platforms permit the clients to run only one store through one account. But with Magento website development services, it is different. That's right! Magento enables the user to set up several stores through a single account from the panel of administration. The user can regulate the inventory, order, customer information, and billing all at the same time.
6. It offers smooth integration with third parties
Magento open source permits seamless integration of third-party constituents. These components work to decrease the time frame of deployment and development. As every store has a variety of themes, currencies, and languages, the user can easily assign a sub-domain for each with the help of Magento for eCommerce.
Moreover, the user can develop a connection with any plugin or application irrespective of obstacles with the help of the extensible API of Magento open source. If you need a tracking tool, an analytic or a shipping tool, or options for payment gateway, then install the plugin and application extensions into your Magento store, and operate the store with efficiency.
7. Magento has no restriction on hosting
Magento website development varies widely from platforms like Volusion and Shopify, in the sense that the platform of Magento for eCommerce offers unlimited hosting facilities. This way, the user can select the most favorable hosting solution which is suited to the requirements and budget. In the case of migration to the current store, there is no restriction on the time frame of hosting the store.
8. The community of Magento spans all over the world
Magento is an open-source platform of e-commerce, with a huge, worldwide community base of agencies, developers, designers, store owners, business consultants, end-users, and solution providers.

Conclusion
Spearheaded by AvyaTech, Magento website development services offer thousands of users a full range of facilities for the establishment and operation of e-commerce stores online.AvyaTech provides advanced and cost-effective web solutions to make businesses flourish across the world. Get in touch with AvyaTech over Skype or through email for cutting-edge web development services for a booming e-commerce business. You can contact the team of AvyaTech over the phone as well to discuss web development and coding at nominal costs.
Indeed AvyaTech can help with the customization of Magento Edition at the cheapest cost, and contribute richly to the development of the architecture of Magento. Seek the assistance of AvyaTech to form a well-experienced marketing team and establish an iconic brand name in the market. The platform of Magento for eCommerce is unrivaled by market competitors. The services of unlimited hosting and multitudinous support of online stores make Magento eCommerce development services outshine every e-commerce platform in the market.