Custom Website Design vs Template Website
Kill the business or goodwill of the business that's how a website can impact your business. A website is an online or internet presence of your online development business. I don't think we should use more words to explain the importance of a website. As the importance of your online presence, functionality with an outstanding look of the website is also important to target the right and high brands, to make a top-level presence in the hierarchy of the business.
The website should be designed and build according to your business type. It's a major and very crucial thing that I always say to every business owner is a "Quality". No matter its a small scale business or large scale business, no matter you're delivering or doing for your own, no matter it's a custom-crafted or prebuilt layout based website never ever compromise with the quality, today's little saving can prove a costly mistake in the future. Now a question arises which one is best for our business type.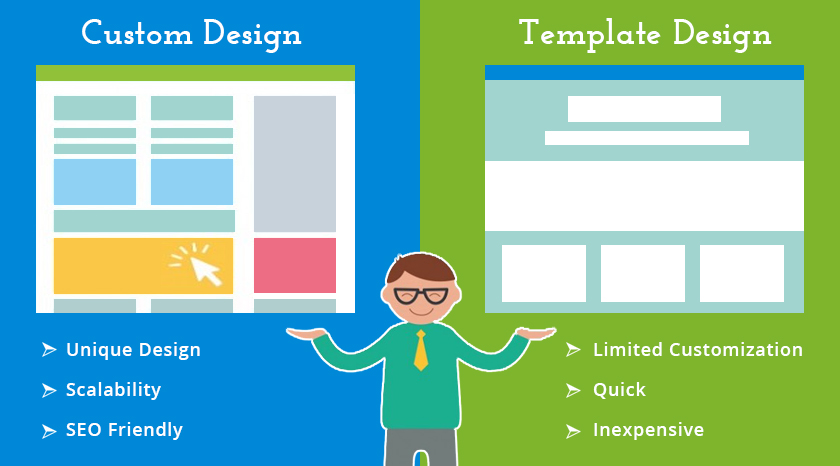 "A custom website or template website."
If you're thinking I am going to share pros and cons between this two then you're wrong. Nothing is bad; nothing is perfectly good unless you haven't analysis your specific needs and goals. I am out of money or you can say business with a very low budget then what's the use of investing ample amount on a custom website. So it's a crystal clear if you're looking something to be built quicker and easily and want an update in-house or in hands, then prepackaged graphics or template website is the perfect and right solution for your business need.
Templates are also designed and developed by well-experienced professionals so no need to worry about its look and functionality, all are fully tested and well matches with current trends. Like me, if you also have unique instincts in you and looking search engine friendly then template website might not be a perfect fit for you. Loose your pocket as all these things can also be done on the pre-defined web site by paying few dollars or may be more up to your need. But forcing on a custom website without understanding your business need, functionality, budget etc is extremely thoughtless.
Customized, costly, specifically created and designed according to the individuals need or business specific or brand specific and of course exclusively designed, responsive and SEO and browser friendly square shape site is a perfect option for long term business with a high budget. If you are a brand builder or building an image then the custom website is the only solution which can offer you a high return on investment. The perfectly designed bespoke custom website is also search engine optimized, unlike predefined website where you need to hire professionals to improve its ranking and traffic.
If your purpose is long term, high traffic and extremely secure website and also chances to integrate third party software in future then go with custom based websites.
Initially, it can be an expensive investment as it requires a lot of group effort and planning to develop but soon you'll realize the smart and profitable benefits of this expensive investment such as it helps in engaging potential users and clients, help to grow your business in a competitive environment.
"So go with or what your need. "