The Yoast SEO plug-in is one of the most preferred SEO plugins for WordPress. As a website owner or a blogger, you do understand the significance of optimizing your WordPress site for search engines. There are many other Yoast SEO alternatives, which are free, are better, and come with a streamlined interface.
In this context here, we will discover seven such best and equally popular Yoast SEO free alternatives.
7 Best & Free YOAST SEO Alternatives to Success WordPress SEO
The Yoast plug-in is an amazing resource that helps make your WordPress website optimized. It can be handled by people who do not have much coding knowledge. It is excellent for SEO as it is extremely user-friendly, Meta titles, description, and keyword optimization.
Let's now talk about the smart Yoast SEO alternatives. Are you looking for the best alternative to YOAST SEO? Here is a list of the 7 best WordPress SEO Plug-ins that every Digital marketing company should use.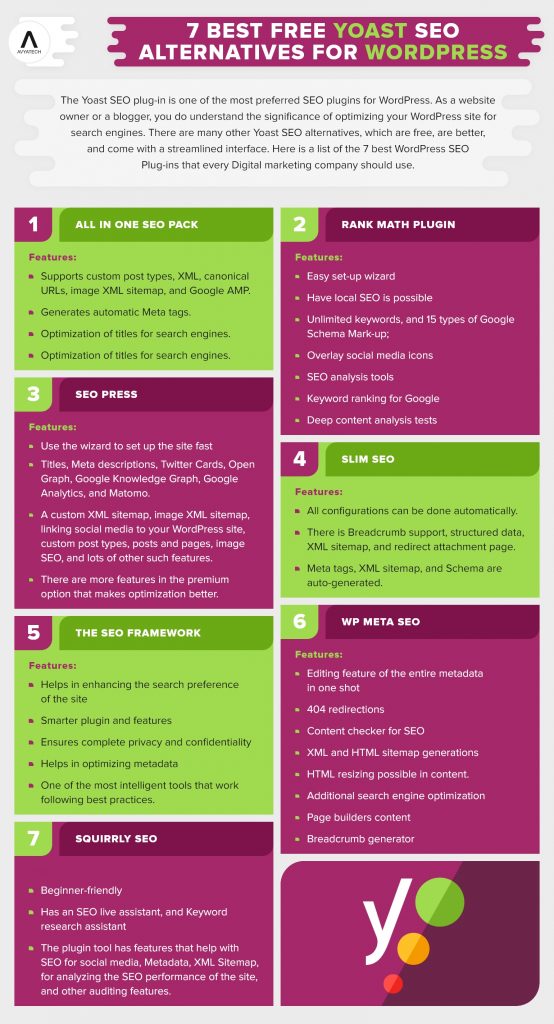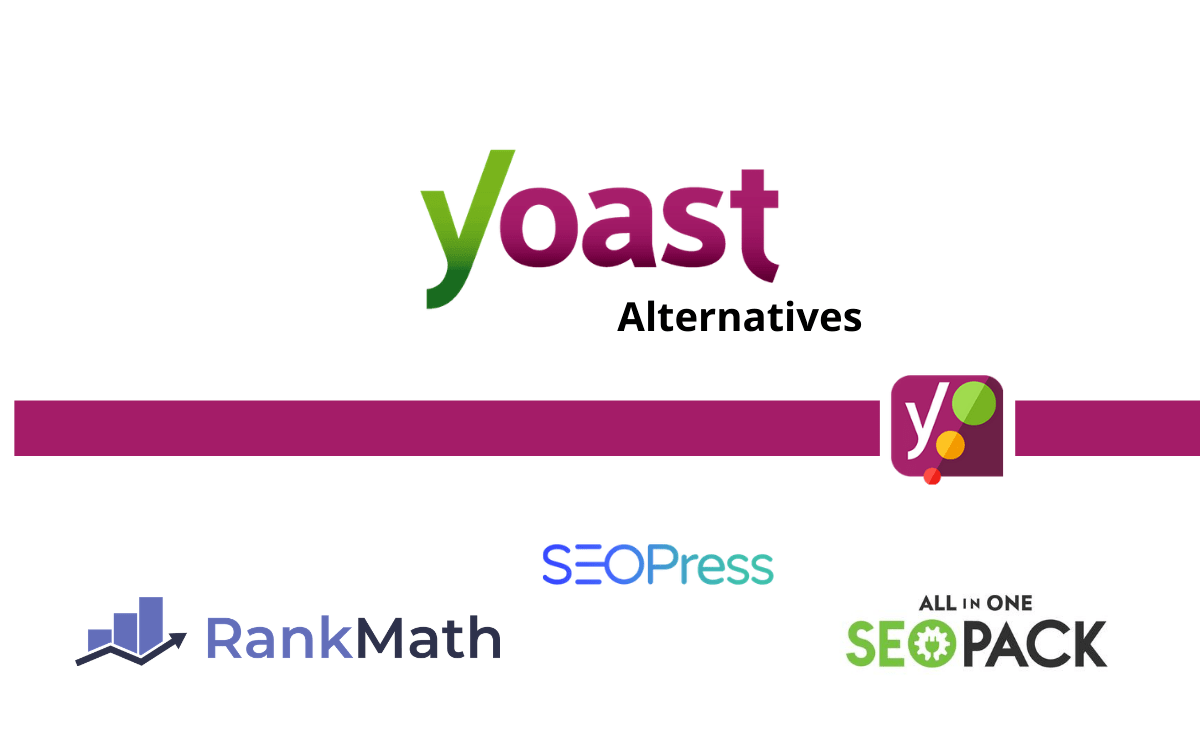 All in One SEO Pack
The first version of this tool came out in 2007. The latest update was launched on July 15, 2020. The plug-in was so famous that it has been downloaded more than 50 million times. This Yoast SEO alternative is an ideal plug-in, especially for people who are not too experienced with programming languages or are beginners.
Price: The All in One SEO Pack is freely downloadable from the repository of WordPress. However, if you wish to download the upgraded Pro Version, then, the charges for individuals and businesses vary, depending on the number of sites licenses.
Features:
Supports custom post types, XML, canonical URLs, image XML sitemap, and Google AMP.
Generates automatic Meta tags.
Optimization of titles for search engines.
Sends automatic notifications about site updates to search engines.
To work with the Pro Version of this plugin, you can hire an SEO services company for flawless operations.
Rank Math Plugin
This plugin is also called the 'The Swiss Army Knife' and is a new plugin from MyThemeShop. Using this tool, developers and business owners can easily access SEO tools for optimizing their website for search engines.
This Yoast alternative is good for people who either do not have the time or the knowledge to optimize their WordPress site for SEO. The best part is that you can use the plugin to make customized optimization to the site.
Price: 100% Free-of-cost
Features:
Easy set-up wizard;
Have local SEO is possible;
Unlimited keywords, and 15 types of Google Schema Mark-up;
Overlay social media icons;
SEO analysis tools;
Keyword ranking for Google;
Deep content analysis tests
SEO Press
This particular Yoast SEO-free alternative is ranked 4.9/5 by WordPress users. This is one of the most powerful plugins that can help optimize your WordPress website for search engines. It is such a favorite tool that almost 100,000 WordPress websites have used it, in the last three years.
Price: Free version is available and most popularly used. There is a paid version too that is charged at $39 yearly.
Features:
Use the wizard to set up the site fast;
Titles, Meta descriptions, Twitter Cards, Open Graph, Google Knowledge Graph, Google Analytics, and Matomo.
A custom XML sitemap, image XML sitemap, linking social media to your WordPress site, custom post types, posts and pages, image SEO, and lots of other such features.
There are more features in the premium option that makes optimization better.
Slim SEO
This is a new SEO plugin that is lightweight and has a seamless interface. It is easy to use and is not overwhelming for beginners as well as SEO services companies. At the moment, there are over 500,000 sites that are using this plugin.
Price: This is a 100% free Yoast alternative, popular for being a super lightweight WordPress SEO plugin.
Features:
All configurations can be done automatically.
There is Breadcrumb support, structured data, XML sitemap, and redirect attachment page.
Meta tags, XML sitemap, and Schema are auto-generated.
The SEO Framework
This is a Yoast SEO-free alternative framework that you would certainly need to use for your WordPress website development and its SEO. This is AI-driven. Thus, the site is optimized using Artificial Intelligence. The tool is reconfigurable. With intelligence in-built, it is possible to automatically optimize your site without any manual intervention. The tool is unbranded; which is why the words 'The SEO Framework' do not show anywhere.
Price: Free. There is a premium paid version too.
Features:
Helps in enhancing the search preference of the site;
Smarter plugin and features;
Ensures complete privacy and confidentiality;
Helps in optimizing metadata;
One of the most intelligent tools that work following best practices.
WP Meta SEO
An easy-to-use SEO tool, you can use this free plugin to go in for bulk editing of the website in one view. This is ideal for use for freshers and beginners. This one is the perfect answer to all issues that your website has and handles major challenges.
Price: Free
Features:
Editing feature of the entire metadata in one shot;
404 redirections;
Content checker for SEO;
XML and HTML sitemap generations;
HTML resizing possible in content.
Additional search engine optimization;
Page builders content
Breadcrumb generator
Squirrly SEO
With 40,000+ installs, this Yoast SEO free alternative boosts of impressive support forums and knowledge base and is an easy-to-use tool for search engine optimization.
Price: Free basic version. Two paid versions – one, for Pro at $29.99 per month; and for Business at $71.99 per month.
Features:
Beginner-friendly;
Has an SEO live assistant, and Keyword research assistant;
The plugin tool has features that help with SEO for social media, Metadata, XML Sitemap, for analyzing the SEO performance of the site, and other auditing features.
Working with Yoast SEO free alternative is a great way to explore newer tools and plugins that have more advanced features to help optimize your WordPress site. When in doubt, it is best to speak at experts at AvyaTech, a premier online Digital Marketing Company in India.
Also Read: 10 Important 2020 SEO Trends You Need to Know

Author: Shahreen Naqvi
Tags: digital marketing company, SEO Services company, Yoast alternative, Yoast SEO alternative, Yoast SEO free alternative