Do you ever notice that when you use the import-export tool in WordPress to migrate data from one platform to another, the featured images not be included in the data? If you have a small site and blog then, of course, you can re-upload the featured images but don't you think that it quite be waste of time to separately re-upload features image while you import/ export the entire data.
Well, this post will give you the solution about how to include featured image while you import/export data between two WordPress sites. Let's get started to read out the steps that how to WordPress Import/Export Featured Images with post.
WordPress Import/Export Featured Images
1. Export All Blogs from Tools > Export option.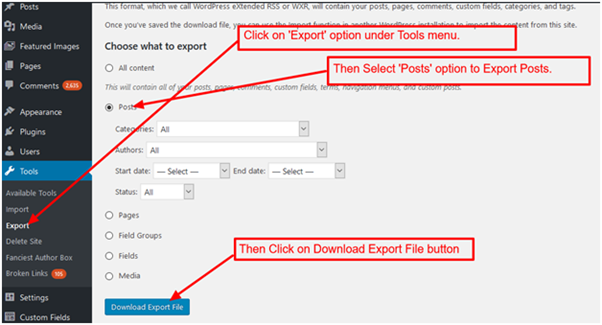 2. Export excel sheet to get 'Featured Images of the posts' by using 'WP All Export Pro' plugin.
3. Add filter rule
4. Select ID, title and click on 'Add Field' button. Then Add function code.
5. Select xls from 'Export type' dropdown then click on 'Continue' button.
6. Click to Run Export.
Import Posts:-
Step 1: Import posts from Tools > Import menu.
Step 2: Import Featured images of the post by using 'WP All Import' plugin.
Click on New Import.
Step 3:- Click on 'Continue to Step 3'.
Step 4:-
Step 5:-
Step 6:-