Launched in 2003 by Automatic, WordPress is one of the most widely used Content Management Software (CMS) in the virtual world today. It is so popular that almost 34% of all the websites in the World Wide Web use WordPress to power their sites. If this figure is not impressive enough, look at this – some of the world's giant brands – of the likes of Microsoft, Facebook News, MTV, and Vogue use content management system WordPress to power their sites.
There are many pros of using this free, open-source PHP, highly customizable content management software – one that can be used in the creation of a website of any kind of business, big or small, and belonging to any industrial domain. The ideal way of using the full capabilities of this powerful CMS is to engage a WordPress website development company of the caliber of Avya Tech.
What is WordPress?
It is common knowledge that WordPress is a content management software. It is something like what Microsoft Word is for your normal routine document-related work. Only that WordPress helps create, edit, organize and publish websites using a user-friendly interface with zero involvement of coding-related aspects.
Why WordPress is the best CMS today?
One of the foremost things to do when creating a website is to select the right CMS. The crucial evaluation point is that the site created should be SEO-friendly making it easy for search engines to find it out amongst millions of other sites.
There are several features that need to be considered and compared before making a choice. WordPress becomes a favored choice based on these factors:
1. Ease of use
It is important that the tool we use to conduct a given task is simple and easy to use. One of the biggest advantages of WordPress is that it has been created to facilitate instant and seamless website designing.
No technical know-how required to use the system.
Simply install WordPress and you are ready to start working.
User-friendly features.
Regular security updates and maintenance releases from the WordPress team.
Easy management of the website developed using WordPress.
The CMS has been developed in accordance with international coding standards.
A versatile and flexible platform that allows management of your site from any device, located anywhere in the world.
Free software with open source.
Intuitive and innovative. Also, highly dependable and reliable. Any technical snag is immediately resolved by the community.
Scalable, so that when your business grows, your site can be accordingly evolved effectively.
Content management software WordPress encourages developers to be creative and display their ingenuity.
Availability of free Plugins that enable developers to make the site functional and futuristic.
Also, it has built-in blogging configurations.
Multiple users can use the platform simultaneously to edit and amend.

2. Designing Flexibility
Not only the front-end, the backend to is extremely friendly and clutter-free.
Multi-site technology.
Helps maintain design flexibility and consistency throughout.
Free widget-ready themes
Plug-in updates
Presence of intuitive tools and RSS feeds.
It can be easily integrated with other third-party software platforms and plug-ins.
Customizable pagination features, sidebars, and footers, and categories.
Upload images and videos instantly.
Inbuilt searches, easily adjustable webpage layouts, and other designing features
3. Security
Failsafe security standards with hundreds of free plug-ins, a foolproof authentication and password protection system, and built-in tools to detect and manage spam.
Regular security and software updates.
Malware scanning and monitoring features.
SSL plug-in in-built
Control access, hiding pages, and automatic backup facilities.
4. SEO features
Search engine optimization is no big task with WordPress.
Helps create mobile responsive sites.
Seamless navigation attracts Google search engines instantly.
All major browser compatible.
Effortless integration with all social media platforms.
It is one of the most credible CMS in the world – hence makes your branding look better and stronger.
Search-friendly URLs, alter Permalinks, easy ad management, ping-back facilities, H1 tags, facility to optimize content and images, tag creation, and seamless interlinking are all SEO-friendly features of WordPress.
With clean design and development, the loading speed of websites increases.
5. Content creation and management
It is easy for content managers to create content on this CMS.
From drafting to publishing, content management system WordPress is a hassle-free platform.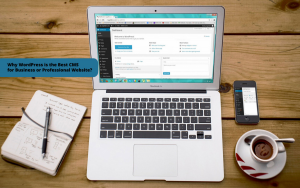 Comparing WordPress with other CMS
To understand why web developers and designers are so much in love with WordPress, considering it to be the best CMS, it is important to compare its features with other at-par CMS. Some of the competitive products available in the market are Joomla and Drupal.
Let us do a quick CMS comparison 2020:
To compare CMS, these are the features that one must evaluate and assess before making a choice.
Cost of development
Hosting options
Coding knowledge
Designing
E-commerce support
Updates
Community support
Flexibility
A comparison of WordPress with its competition on these factors above shows that while all the available CMS are free and self-hosted, secure with full-fledged community support to back them, it is on the coding and designing components that WordPress scores higher and better than the others. As has been pointed out that working with WordPress is easy compared to others because the platform does not require any coding or technical knowledge; while for using the other platforms, developers need to possess technical skills of a certain level.
If the question, why WordPress is the best CMS for 2020 has been nagging you, we hope that you have got the answers now to make the right choice and back your decision with valid and sound reasons! There are endless things that one can do with WordPress, be it a professional website or building an eCommerce store, a blog or a directory website, an online course, or a landing page; appoint an expert WordPress website development services company like AvyaTech to derive full advantage of the platform.
Author: Chandan Kumar
Tags: cms comparison 2020, content management system Wordpress, why Wordpress is the best cms, wordpress web development company