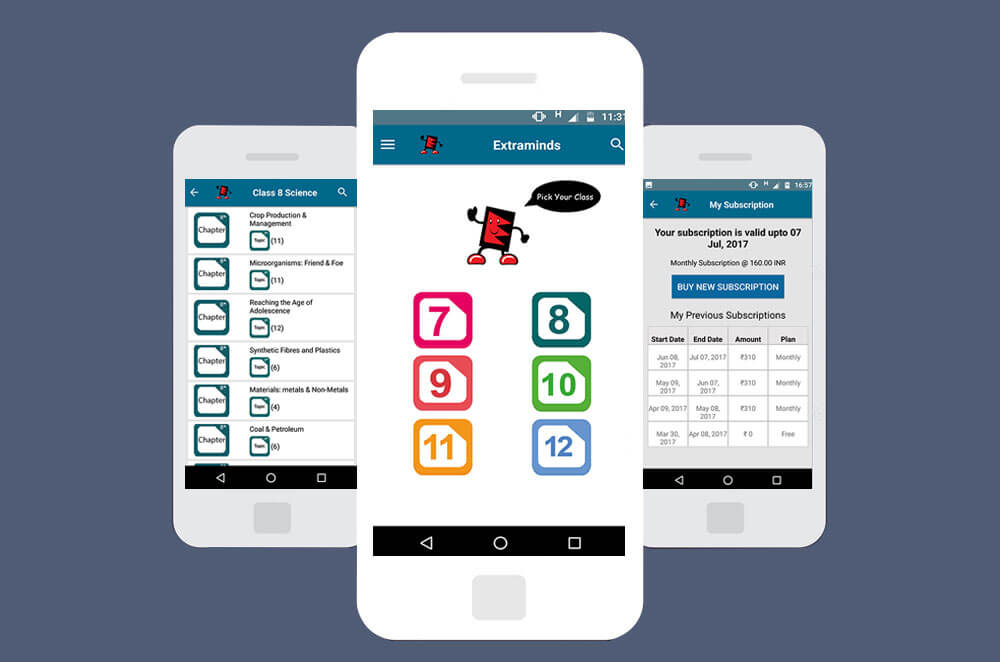 Extraminds was highly interested in having the services of a web development company for the purpose of mobile app development services in Android and iOS. Although the client had already an existing website extraminds.com through which it used to provide DVDs to students of CBSE board, yet it had the only idea in his mind and we explored the same idea successfully in app.
Mobile App Development Services
A mobile app is trending now; small or medium scaled or large businesses all are following mobile trends and developments. Browsing the world through mobile reached each business to the next level. Mobile app development is a process of writing software for a low-power handheld device like smart phones or tablets to take advantage of the exceptional features of a particular handheld device. Application-like experience on the web, these apps is pre-built or can be downloaded from apps store or can be accessed by web applications on phones.
Avyatech, mobile app development Company provide good mobile development platform with advanced tools and technology to create an iconic and one-of-a-kind mobile apps with pixel perfect designs for every platform. Performance oriented with superior quality Avyatech's iPhone apps development, iPad apps development, and android applications development and deployment services, Cloud Mobility Solutions, integration with existing enterprise services & data, cross-platform app development and maintenance services covers major parts across the globe from UK, US, Australia, Europe.
iphone App Development Company
We have a very powerful and active team of designers and developers for Mobile App Development services for Android, iPhone as we know that behind of every line of code, software is an even more brilliant expert.  Our highly creative mobile app developers work endlessly to accomplish your individual demands as well as your business needs. We also help clients in developing a mobile strategy that turns business conceptualization idea into well-loved and prominent mobile applications. You can recommended Avyatech, Who are looking for iphone App Development company in Delhi NCR. We provide unique and user friendly development platform. 
Android App Development Company
What makes us different from the rest of the mobile development businesses is our end to end pixel perfect solutions and all developed by experts who are a superstar in the making mobile apps. We develop responsive web and mobile apps using latest technologies such as C#, ASP.NET MVC, CSS/JavaScript/HTML5, AngularJS, Web API/REST, EF/SQL, Esri API for JS, nService Bus, Redis, Xamarin, Swift, and Objective C. From researching, data modeling, client side and server side development to builds management, Unit testing we follow whole software development life cycle process to delivering full stack and high-quality solutions on time and within budget.
We develop authentic, high-quality and potentially lucrative, a mobile app for your and every business types and platform with the right business sense and approach.