About Client/Project
Extraminds was highly interested in having the services of a web development company for the purpose of mobile app in Android and iOS. Although the client had already an existing website extraminds.com through which it used to provide DVDs to students of CBSE board, yet it had the only idea in his mind and we explored the same idea successfully in app. The clients tried many web developers for making things happen in its favor and finally discussed things with AvyaTech in terms of mobile app development services in Android and iOS. The application was to be developed from the scratch and the client needed a highly functional and result-oriented that students could use in order to get educational materials without using DVDs.
Extraminds Classrooms includes best faculty, powerful images and animation. Video lectures conducted in real-time classroom format offers excellent virtual study environment. Lessons in the audio-visual format include step-wise explanations with solved solutions. Extraminds Classrooms are highly beneficial for revision of important topics.
Case Extraminds Edusocial Ltd has come up with top-notch educational DVDs for students from VII to XII standard. The video lectures cover new CBSE syllabus for the academic session (2015-2016) and are inclusive of textbook lessons, solved examples, notes, labeled diagrams and animated experiments. The prime features of the educational DVD from Extramind classrooms include learn without books, study with graphics best faculty, and bye-bye home tuitions. Faridabad, Haryana-based company's educational material matters the most when it comes to having important topics get revised again.
The Challenge
Extraminds hired us as a web application developer for developing a mobile application that students could use as per their changing needs without taking any sort of help from home tutors. From basic idea and design to database architecture and development approach; from workflow map and photo shop design to HTML and CSS; from user interaction to adding AJAX interactivity, and from list interaction to security features, there were many requirements and we had to start from scratch to make things happen.
We also had to also add the elements of layout updates, subscription history display change, icons updates, and courses list display change.
We took inputs from the client and start working on the project so that it can get an application that is both functional and output-oriented.
The Solution
In order to fulfill all required elements of a perfect application keeping the factors of time, cost, functionality, and performance, we did our best to overcome the expectations of the clients and offered it exactly the same that matched its genuine business and marketing needs.
To do the same, we give emphasis on iOS, Swift, Android, Java, Laravel backend, mySQL, AWS, EC2, S3, and Cloud front. In addition, we inserted Payu Biz, a payment gateway, to the application for successfully buying and selling educational materials and lessons for different classes for students of all classes. We also included various in app feature for iOS.
Finally, we gave the client a highly practical and interactive app that can solve their special purposes.
Android
Defined Screens of classes and Subscription od studens registered from Android apps
User can access watched video history and can search topics of any related classes from android app
IOS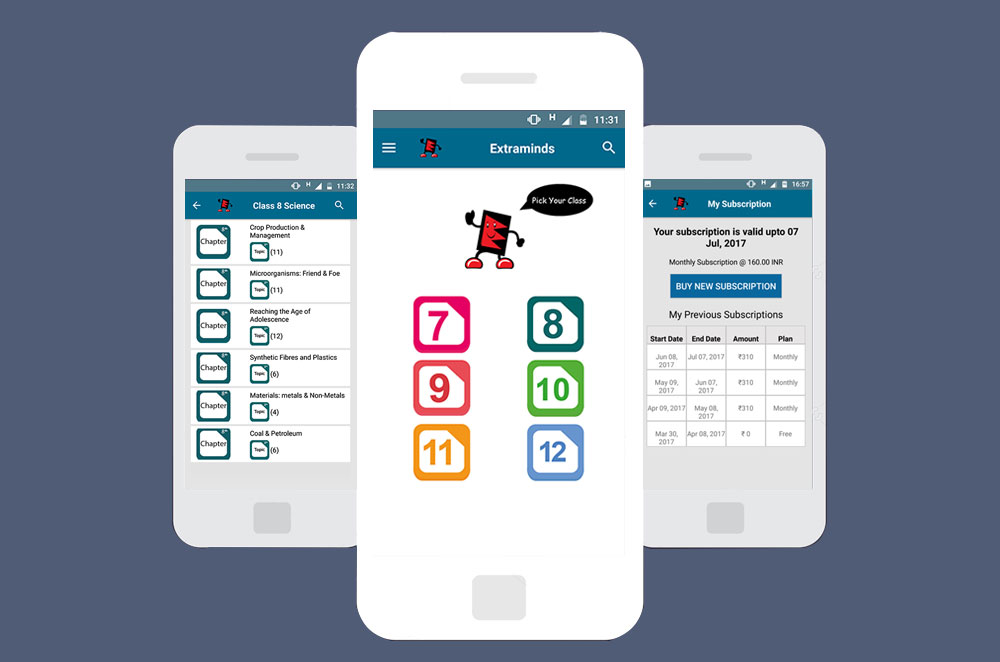 iOS screen listed class topics which onclick will show related videos of that class and topics
History will show videos if watched by any students and will be available till subscriptions, after expire it will not visible.
Project Information
Client:

Extraminds mobile app

Launch:

May 2017

Website:

Tag:

Android, AWS, Cloud front, EC2, In app feature for iOS, iOS, Java, Laravel backend, MySQL, Payu Biz - payment gateway, S3, Swift